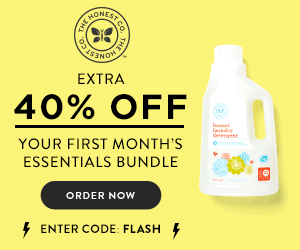 I LOVE The Honest Company! Founded by Jessica Alba (yes, the adorable and talented actress!), The Honest Company aims to bring you eco-friendly, beautiful, convenient and affordable products for your littles and home. I've found some AWESOME Honest Company deals for you!
Thru TODAY ONLY 2/8/17, you can snag 40% off your first month's essentials bundle! The Honest Essentials Bundle includes your choice of 5 premium, natural & effective personal care & home cleaning essentials – select from 65+ items! Here is what my bundle would look like:
Honest Calming Bubble Bath (RV $11.95)
Honest Organic Healing Balm (RV $12.95)
Honest Organic Breath Easy Rub (RV $9.95)
Honest Organic Body Oil (RV $9.95)
Honest Mineral Sunscreen SPF 50+ (RV $13.95)
My personal bundle would normally cost me $58.75, but with the online bundle option it would be discounted to $35.95! If I use Coupon Code "FLASH" on top of that I get an additional 40% off! Bringing my final bundle total to only $21.57 – a 64% savings! Check out the Essentials Bundle options online TODAY and create your very own, personalized Honest Company bundle!
Here's how to get your discounted Essentials Bundle:
Head over to The Honest Company (Use THIS link for Essentials Bundle discounts! See below for Diaper Bundle discount)
Choose your 5 Essentials products for a Customized Bundle & add to your cart
Use Coupon Code "FLASH" during checkout
Enjoy your savings!
*****************************************************************************************
I just LOVE their diapers! They are the cutest, but definitely hard to find a discount on.. until today! Click thru my link below and you'll automatically get $20 off your first diapers & wipes bundle – NO Coupon Code needed!
They have a Diapers & Wipes Bundle that normally retails for $79.95- which itself is a great price because you're already saving approximately 20% from in-store prices! However, with the $20 off link you can snag it for only $59.95! This bundle comes with 6 packs of diapers and 4 packs of wipes ($102.65 value!) That's like paying $9.99 for each pack of diapers and getting all the wipes free!! To compare, Target sells the diapers for $14 per pack and the wipes $5 per pack – you'd pay $104 in store! Sorry Target I love you, but this is a much better deal! <3
Here's how to grab your bundle:
Head over to The Honest Company website (Use THIS link for Diapers Bundle discount! Use link above for Essentials Bundle discount!)
Add the Diapers & Wipes Bundle to your cart
Enjoy your savings!